Jurassic World: Dominion Dominates Fandom Wikis - The Loop
Play Sound
Release: 1995
The story begins with Heather exaggerating her relationship with a prima ballerina and her own ballet skills in order to impress her Magic Attic Club friends. Her friends recognize that Heather is stretching the truth, much to Heather's discomfort, and they return home early from visiting with her. She decides to visit the attic for answers on how to fix the awkward situation, fearing having to face her friends.
In her mirror adventure, Heather appears as a guest ballerina and the other dancers expect her to star in the important lead role. Eager to live up to their expectations, Heather exaggerates about her abilities. Then comes one regrettable misstep. Has Heather's dream ended just as it was about to come true?
Throughout her adventure, Heather learns she doesn't have to exaggerate her abilities to impress her new friends.
Time: Two weeks after the events of the first book, Winter of the next year
Adventure Location
New York City Junior Ballet Ensemble
Adventure Characters
Madame Chen-The stylish director of the ballet
Jillian-Heather's new friend who loans her ballet shoes and supports her.
Carla-Heather's understudy who badly wants the lead role
Howie-Heather's dance partner, the "prince" in Sleeping Beauty
Book Gallery
[
]
Illustrations by Richard Lauter and Ed Tadiello
Collection
[
]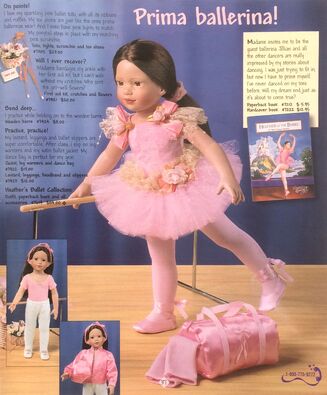 Ballerina leotard, tutu, pink tights, toe shoes, and scrunchie
Ballet barre and leg warmers
First aid, crutches, and flowers
Jacket and dance bag
Leggings, extra leotard, headband, and slippers
Back to: Heather Hardin